Hoosier Woodworks
---
I am a professional woodworker, specializing in designing items just for you to solve your problems and help make your life better. I'm located at 118 E Ridgeview Dr., Bloomington, Indiana.
You can reach me at 812-325-9823 or roger@hoosierwoodworks.com
March 12, 2019
2019 Class Schedule
Yes, after an almost ten-year hiatus, I am once again teaching woodworking classes locally. I've teamed up with Blue Heron Woodworking here in Bloomington and will teach two classes a month. These classes are three hours long and geared towards both beginners and more advanced students. Check out the complete schedule at www.blueheronbloomington.com. If you need any woodworking supplies, check out their extensive inventory.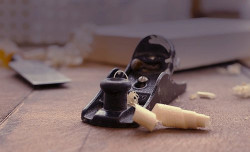 Woodworking Basics, March 23
You've watched the TV shows, you've seen YouTube videos. You want to do it but aren't quite sure how to get started. This one-day workshop will discuss the basic...more

Hand Planes: Use, Tuning, and Restoration, March 23
Either a treasured tool used every day or a dust-covered, rusty relic of a by-gone era flung in frustration to the darkest recesses of the workshop: Craftsmen either...more

Woodworking Basics: A Simple Bookcase, April 27
In this three-hour class, you will use low-cost lumber to construct a simple, basic bookcase that you can take home. This is a good class if you have a little bit...more

Quick and Simple Cabinet Making, April 27
Boxes, or cabinets, are the cornerstone element in most of our furniture and household storage-- kitchen cabinets, bookcases, end tables, entertainment...more

Woodworking Basics, May 18
You've watched the TV shows, you've seen YouTube videos. You want to do it but aren't quite sure how to get started. This one-day workshop will discuss the basic...more

Making and Installing Trim and Molding, May 18
Simple little pieces of wood can make a dramatic impact on everything from a small jewelry box to every room of your house. In this class, we will learn...more

To sign up for any of these class, please contact Michael at Blue Heron Woodworking.




Read about interesting projects and events on previous ARTICLES.
Thanks,
Roger