Hoosier Woodworks
---
I am a professional woodworker, specializing in designing items just for you to solve your problems and help make your life better. I'm located at 118 E Ridgeview Dr., Bloomington, Indiana.
You can reach me at 812-325-9823 or roger@hoosierwoodworks.com
January 10, 2017
500 year old cabinet....sort of.....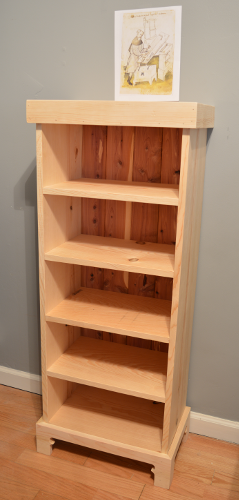 My Christmas break project was this simple cabinet. We turned our grown and gone oldest kids bedroom into a laundry/storage/spare room. Since I get up very early every morning I have always dressed in the laundry so as not to disturb my lovely wife's beauty sleep. I stored my clothes on built-in shelves in the old laundry and wanted a similar arrangement. ( I gave up on "dressers" decades ago probably because I lived out of a sea bag for so many years.)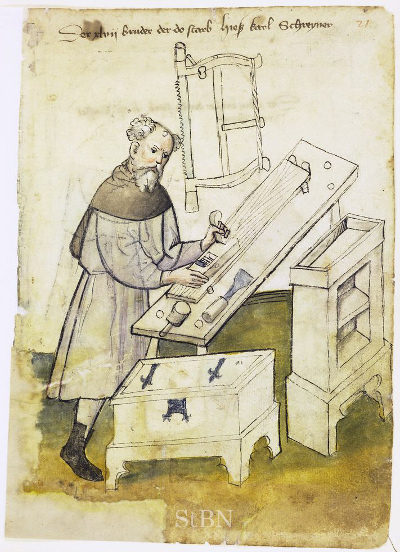 My design requirements were a cabinet fairly narrow and about 45 inches high with a depth around 12 inches. I have this imagine of a renaissance carpenter, perhaps German, that I always admired. There were a series of these imagines of different 16th-century trade and craftsman.

I made mine from common pine as they may have in the 16th-century. I used rectangular head cut nails as they may have except instead of wrought iron, I cheated and use cut masonry nails. For the trim, I really cheated and used my pneumatic nail gun. Hey- they have a rectangular nail head too!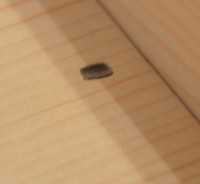 OK, the BIG cheat was with the joinery on the shelves. Historically, they would have used a dado joint for each shelve (a groove cut across the vertical side that the end of the shelf slips into - very strong) on the higher end pieces. On lower end cabinetry the shelves might rest on a cheat attached to the side or simply pinned to the sides with wood dowels (not terribly strong, but adequate).

I used pocket hole screw technology. It's quick, very strong and quick. Pocket holes are used to build most kitchen cabinets in the US today. They are not very eloquent, but if they're hidden.... they're fast!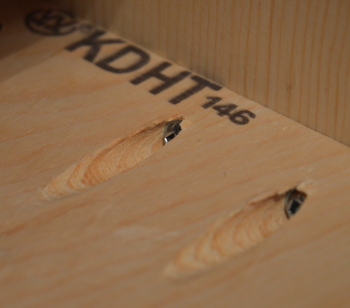 The most pleasant surprise about this design is the top. The "framed" top creates a wonderfully secure area to toss keys, wallet, cell phone, change, etc without fear of them being accidentally swept off the top.

So, besides pretending to be a plumber and an electrician and relocating the washer and dryer in a new room, I built this handy little clothes storage unit, .....errrr 16th-centry inspired wooden clothes press.





Read about intersting projects and events on previous ARTICLES.
Thanks,
Roger